We have a whole cultural horizon talking about Incense; there isn't only one incense resin type, but many types of Boswellia, resins which have a bond with Sacred and Antiquity.
Incense is one of the most valuable product from Boswellia Sacra, coming from Oman area, which has always been the most excellent producer. Oman was a starting departure for caravans which have to get the Mediterranean and trade with India and the East too. The Boswellia sacra grows also in Somalia and Ethiopia, but the great tradition of incense route starts from Dhofar Area in Oman. There are also other trees of Boswellia whom are used to produce the incense, like Boswellia frereana, Boswellia, rivae etc…
We are mistaken considering there wasn't a great trade at the time : before Christ 's birth international trade already existed and covered also considerable distances through difficult territories. For example, carrying  the incense from Oman to the Mediterranean required a journey in blasted lands, in some areas even with hills and mountains; the payment of "customs" were imposed and this made rich cities on the route.
Incense has always been connected to the rituals; emperors and pharaohs made an extensive use of it.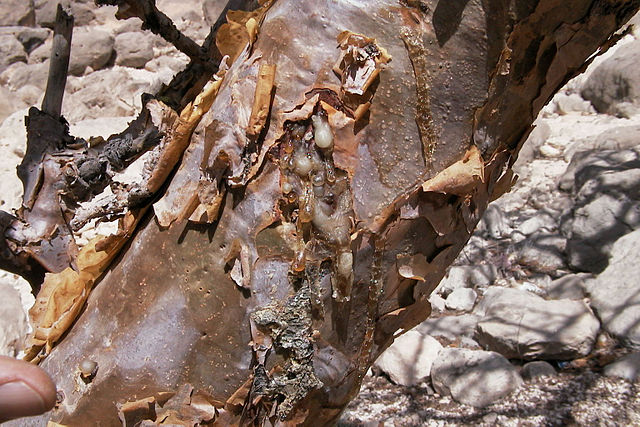 Boswellia sacra is a resin which is collected by the trees, or by spontaneous production, or through an incision on the trunk. The essential oil is distilled by steam distillation.
The olfactory profile of incense is varied: a note of lemon, together with a tip of freshness and a feeling of dryness, that returns a feeling of elevation and opening upwards, toward intuition and inspiration.
In my opinion this essential oil is very good to diffuse in the environment, infact it "elevates" the space in which we are immersed, cleans it (this essence is antiseptic and cleans also on the energetic level). I consider it good in massage and bath for destressing purpose. Clearly it is considered an excellent component of perfumes, its energy connects perfectly with the old idea of "per-fumum", a fumigation through which you might elevate , moving toward the top of the consciousness.
Incense essential oils are associated with different spices in perfumery; together they form attractive synergies that give character to the so-called oriental perfumes.
The tradition also reserves to incense cosmetic functions: the essential oil is definitely healing, and you can combine a natural cream base with incense essential oil to improve skin tone.
If you like incense, you can view the site on the area of Dhofar , which is one of the assets under the protection of UNESCO.