I'm walking around in Milan. Beautiful day, a slight breeze, lot of light, and is warm enough. I step in front of a fragrance shop window, and I think…let's go inside! And so I turn and make my way to the front door. Oh my God, it is full of people here …while I am walking among various stands, I arrive to the Guerlain stand. I see the new fragrance, Petit Robe Noir, I ask to smell it on a mouillette. Well… in a few moments I ask to smell L'Heure Bleue. And when I spray it on the mouillette, and I smell it, I think there is an abyss between the two perfumes, and the victory, should there be one, go to this masterpiece of 1912, beating his great-grandson in 2012  (a bit as it happens at the Olympic Games, when you see the first one running so far from the second one that he seems to be flying and you wonder what that guy has in his legs… or whether he has asked for help from some winged being to run so fast).
Yes, because L'Heure Bleue flies . On the official website of the house of Guerlain we read that this fragrance is designed for the moment when the sun is down and the night still has not yet arrived, permeating the horizon of a color which is difficult to define precisely, And so here it is: L'Heure Bleue – a perfume inspired by the Impressionist painters that Jacques Guerlain collected. I can well believe it: this is pure impressionism .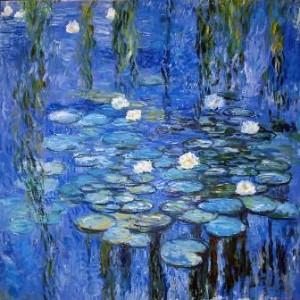 The notes of anise, neroli, bergamot open a door then you can no longer close, and you wonder if you will ever close it again . Then comes the body, which is composed of many elements, such as rose, neroli, clove, violet, ylang … a kind of earthly paradise. At this point you are already happy, and you get a closure that looks like a symphony: iris, benzoin, vanilla, sandalwood … and more.
It is a description of an earthly paradise, an uncommon sensitivity and an inspired talent. If I had to read it from the point of view of aromatherapy , considering the part of this perfume that is made ​​- or was – by real essential oils, I would say that is a remedy for the mind and the heart.
The beauty of smell of flowers is maximized by other nuances giving to the perfume even more ethereal effects; while you feel yourself in a garden, this garden becomes lighter, and the deep notes are only there to tell you "fly, fly, I won't let you fall " . Maybe l'Heure Bleue could be symbolically the scent of Trust and Faith; the scent of something that brings you to the top and while you might be afraid, it supports you and reassures you. As in the time of day indicated by Jacques Guerlain, in which the arrival of the evening promises to be something subtle, ethereal: evening is a sunrise, not a sunset – nothing "sets", in reality, but the sun going down ath the same time opens a new scenario, and it is not where the day ends, but where inspiration begins .
This sense of inspiration is even more beautiful because in my opinion is "true" inspiration: not imagination, not a play of the mind, but pure, true, visionary inspiration that lasts, like its scent.It is a horizon that opens .
In this scent we can catch a glimpse of something at its beginning, a path to something beautiful. Here you have the beginning of something, that sweeps up, and that brings with it a counterweight that allows us to fly without fear and without fear of the "return". This because "the return" are the basic notes, sandalwood, vanilla, benzoin… the return is sweet, it welcomes you. It's a coming home embracing yourself.
For me, this is a fragrance is a tribute and a olfactory photo of a time of day that brings in itself something magical, but it is also a symbol of a special moment in your soul. In short, we could say it is an archetype, the archetype of inspiration, faith, and the return to yourself without pain, but finding yourself in a safe environment . If  we need an image for this place to return to, I would see a bunch of soft pillows waiting for us to relax on. 

PS: if you love vintage perfumes, please check the Osmotheque collection in Versailles, France.